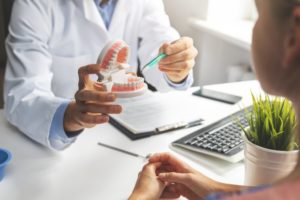 Living with diabetes is already difficult even before you throw tooth loss into the mix. You don't want to deal with wearing dentures that shift around and feel uncomfortable, but you're not sure whether dental implants are even a feasible option for you. After all, dental implants require oral surgery, and your diabetes can complicate the healing process. However, having diabetes might not necessarily prevent you from this treatment. Keep reading as we answer the question: are dental implants safe for diabetics?
How Diabetes Affects Your Candidacy for Dental Implants
Diabetes elevates the risk of multiple health issues, including a slower healing rate. This may prevent dental implants from successfully integrating with the jawbone and providing a sturdy, long-lasting foundation for replacement teeth. That being said, dental implants are not automatically out of the question for diabetics.
If you have diabetes and are thinking about getting dental implants, consider these questions first:
Is Your Diabetes Well-Managed?
Multiple studies have confirmed that patients with controlled diabetes have no increased risk of dental implant failure or complications than non-diabetic patients. However, patients with uncontrolled diabetes have higher rates of post-op infection and implant failure. Before beginning dental implant treatment, talk to your dentist or doctor about managing your diabetes throughout the process.
Do You Have Type 1 or Type 2 Diabetes?
Type 1 diabetes can be harder to control than type 2, but that doesn't automatically exclude patients with type 1 from getting dental implants. You may simply have to take extra precautions to keep your blood sugar levels in check.
Are You Generally Healthy?
In addition to uncontrolled diabetes, certain health conditions and habits can decrease the chances of successful dental implant treatment, including:
Smoking – Tobacco use impairs the healing process and increases the risk of oral infections.
Gum disease – Infected gums cannot adequately support dental implants.
Low jawbone density – The jawbone often deteriorates after tooth loss, making it hard for implants to have a firm foundation.
Poor oral hygiene – Without a commitment to daily brushing and flossing, dental implants won't last long.
If you have one or more of these conditions, your dentist can still help you minimize the risk of implant failure. For example, they could use bone grafting to strengthen a weakened jaw.
Dental Implants Are a Worthwhile Investment for People with Diabetes
Many diabetes-healthy diets include foods that require a great deal of chewing, such as fresh fruits, vegetables, and nuts. Dentures make it hard to chew these foods, forcing patients to eat softer, more processed foods that often raise their blood sugar levels. Dental implants, on the other hand, restore almost all of the chewing power of your original teeth. As a result, they make it easier than ever to maintain a balanced diet.
Still curious whether dental implants are right for you? Contact your implant dentist today to learn more about this revolutionary tooth replacement!
About the Author
At Meadowbrook Dental Care, Dr. Miguel A. Casañas Jr. is able to provide start-to-finish dental implant treatment in one convenient location thanks to his advanced training in implant dentistry. That way, you can receive the personalized, expert care you deserve under one roof. To learn more about diabetes and dental implants in Mineola, NY, contact Meadowbrook Dental Care at 516-284-1234.