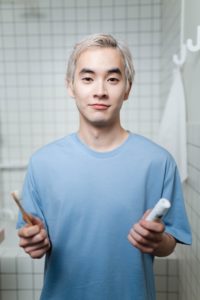 Veneers are a great option to transform the appearance of your teeth because they can fix multiple concerns simultaneously. You won't need a complex procedure or lengthy recovery to achieve the smile of your dreams. Veneers are a long-term solution because they can last for 10 years or more before needing to be replaced. You can get the most out of your investment by caring for your new smile correctly, beginning with the dental products you use at home. Something as simple as the wrong toothpaste can tarnish your beautiful smile. Don't worry, here's everything you need to know to choose the best toothpaste for veneers. 
Not All Toothpastes Are the Same
Modern veneers are made of porcelain because it is durable, but it isn't indestructible. The right toothpaste is essential for protecting the porcelain from damage. There are countless brands on the market, but your goal is to find one that's gentle, so you should avoid:
Abrasive Toothpaste: Abrasive toothpaste isn't good for your natural teeth or veneers. Products containing baking soda and other abrasive agents used to polish the teeth can scratch your veneers. They can lose their shine and texture. They might even look discolored because food particles and plaque can get trapped in the small spaces.
Whitening Toothpaste: Porcelain is stain-resistant, so there isn't any need for whitening toothpaste. Your cosmetic dentist will also advise against it because it can lead to color inconsistencies. Hydrogen peroxide can also damage the structure of the restorations and weaken their bond with your teeth.
A non-abrasive gel toothpaste is best for veneers. Look for the American Dental Association's Seal of Acceptance when choosing the perfect toothpaste for your new smile.
Safeguard Your Investment
Toothpaste is only one factor to influence the lifespan of your veneers. You also need to use the correct toothbrush. It's best to use one with soft bristles because it's less likely to scratch your veneers, and they are gentle on your gum tissue.
Your cosmetic dentist will recommend brushing your teeth at least twice daily. Apply light pressure when cleaning your teeth and veneers for at least 2 minutes in the morning and night. Use dental floss daily to remove any food particles or plaque left behind by your toothbrush.
Besides keeping your mouth clean, stop any bad habits that may damage your veneers, like opening chip bags with your teeth or chewing on your fingernails. Wear an athletic mouthguard if you play sports.
Don't forget to visit your dentist twice a year for a cleaning and checkup. They'll keep your teeth and gums healthy to ensure your stunning new smile lasts for a decade or more.
About Dr. Judson Wells
Dr. Wells earned his dental degree at the University of Alabama School of Dentistry, where he received the Quintessence Award for Achievement in Restorative Dentistry. He regularly continues his education to provide advanced services, like cosmetic dentistry. If you are ready to get the picture-perfect smile you desire, contact our office today to request an appointment.