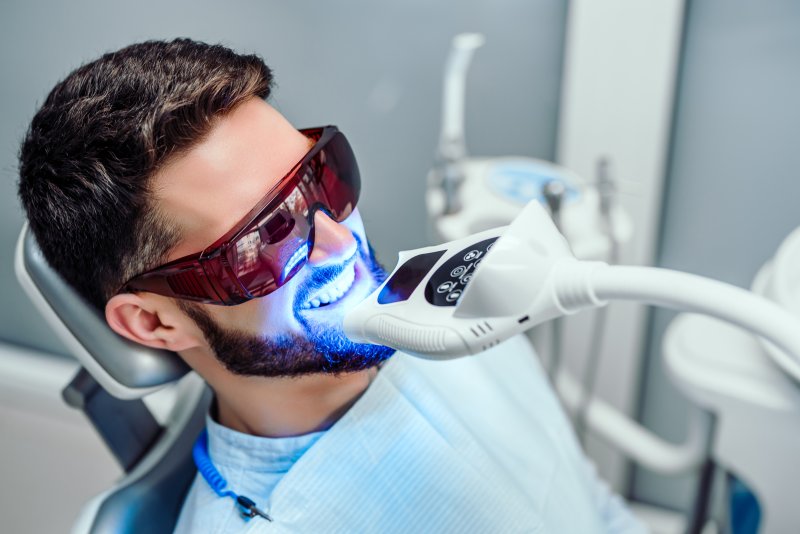 Cosmetic dentistry is incredibly powerful, capable of transforming teeth in just about any condition into the beautiful smile that you've always dreamed of. However, it's also, as you may have guessed, only capable of making cosmetic changes.
Teeth whitening is one of the most popular cosmetic treatments, but if you have cavities, that could prevent you from brightening your smile. Here's why that's the case.
How Does Teeth Whitening Work?
First, it may be a good idea to understand how professional teeth whitening is done. If you do it in-office, your dentist will apply a hydrogen peroxide bleaching solution to your teeth, wait a few minutes for it to work, then remove it. They'll repeat this process a few times until you get the perfectly white smile you're looking for.
As for take-home whitening, your dentist will give you a fitted plastic tray and a slightly weaker bleaching solution that you can apply to it. You'll wear this tray for an hour or two each day over the course of a few weeks.
Can I Get Teeth Whitening If I Have Cavities?
If you have cavities, or really any tooth decay at all, your dentist will probably recommend against both take-home and in-office teeth whitening. The hydrogen peroxide that is often the main ingredient in professional bleaching solutions can potentially lead to tooth sensitivity, even in the best of circumstances.
If the bleaching solution enters a cavity, it could come in contact with the nerve tissue at the center of the tooth. As you can imagine, this is deeply uncomfortable. For this reason, most dentists will recommend dealing with any cavities you have before getting whitening treatment.
How Should I Treat My Cavities?
If you want whitening treatment, having cavities doesn't make that impossible; you just have to treat the areas of decay beforehand. The way that your dentist is most likely to do that is with fillings. Dental crowns can be useful, but they tend to be unaffected by whitening treatment, meaning that you could potentially wind up with one tooth of a different color if you get the treatment afterward.
Of course, some areas of decay are too serious to be treated effectively with fillings alone, so you'll have to talk to your dentist about what kind of restoration is well-suited to you. They'll be happy to prepare you for the pristine white smile you've always wanted.
About Our Practice
When you visit us at Meadowbrook Dental Care, we don't want you to feel like you're just "going to the dentist;" we want you to feel pampered, and like you're taking charge of your own oral health. When you step into our office you'll be greeted by name, and you'll receive the attention and individual care that you deserve.
If you have any questions about teeth whitening, we can be reached at our website or by phone at (516) 284-1234.