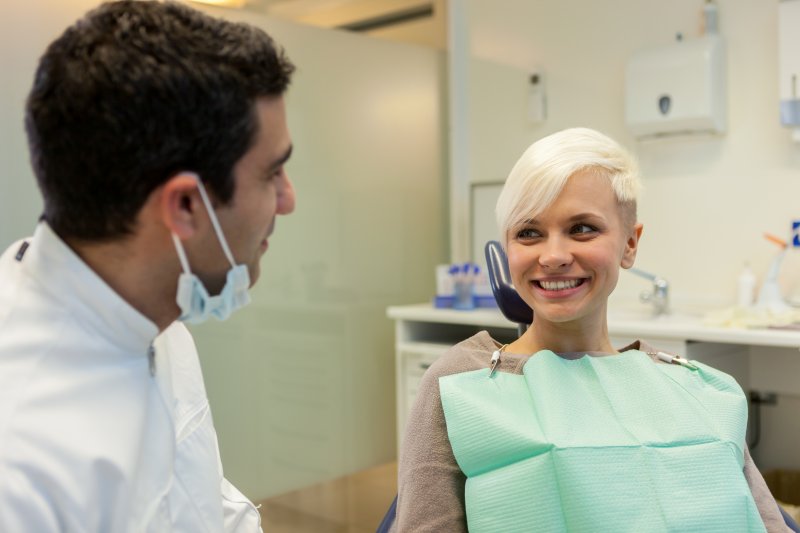 Like many others, you may eventually find yourself feeling unsatisfied with the appearance of your smile. If you decide to revitalize your pearly whites with at-home or professional in-office tooth whitening, it can be helpful to understand what stained your teeth in the first place. To help you avoid things that can stain your smile and keep it looking bright, read on to learn more about the three main types of tooth stains and how your cosmetic dentist in Mineola can help you remove them. 
Extrinsic Discoloration
This type of discoloration is characterized by stains that are likely affecting only the outermost covering of your teeth called the enamel. Extrinsic stains most commonly occur as the result of drinks like coffee, tea, and red wine, highly pigmented foods, smoking cigarettes, or using other tobacco products.
Intrinsic Discoloration
Intrinsic stains are located within the tooth. Because of this, over-the-counter whitening products are less effective on them. These kinds of stains may give the teeth a grayish hue, and they can be caused by injury or trauma to the tooth, certain medications, decay, overuse of fluoride, or genetic factors.
Age-Related Discoloration
As we get older, the enamel begins to erode due to a lifetime of gnawing, crunching, biting, grinding, and poor oral health habits like chewing on non-food items and using teeth as tools. This usually gives them a yellowish appearance, and it's often caused by a mixture of both intrinsic and extrinsic factors.
How to Brighten Your Smile
Fortunately, there are a number of dental procedures and products on the market that can whiten your smile and give your teeth a healthier, more youthful appearance. Ask your cosmetic dentist in Mineola about at-home or in-office whitening treatments to remove stains from your teeth. Both use bleaching gels that are multiple times stronger than anything you can purchase at a drug store. In-office whitening can usually be completed in one appointment, but at-home treatments are a good option for patients looking to whiten their smiles more gradually.
Additionally, porcelain veneers can be placed over the front surface of the teeth to cover up stains and make your smile look more uniform. Dental bonding can also be used to cover up the offending area and polished to look just like your other teeth. These are both effective options for patients who have tooth discoloration that cannot be addressed with teeth whitening.
To keep your smile looking whiter for longer, consider cutting back on or eliminating foods, drinks, and unhealthy habits that can stain your teeth. If stubborn stains still manage to latch onto your pearly whites, don't hesitate to ask your cosmetic dentist about the options they have available to give you the bright, brag-worthy smile you've always wanted!
About the Practice
At Meadowbrook Dental Care, Dr. Miguel A. Casañas Jr., Dr. Alvin Babu, Dr. Judson Wells, and their talented Mineola dental staff aim to make your appointments feel like more than just "going to the dentist." They strive to make every appointment an enjoyable, stress-free dental experience. They ensure that their patients feel respected and safe from the moment they walk through the door. If you want to lighten your smile, they offer several treatments such as porcelain veneers, whitening, and dental bonding. Call (516) 284-1234 or visit their website for more information on how to remove tooth stains for a whiter smile.